Discovery is the richest reported exploratory silver intersection in the Cobalt Mining Camp in at least 60 years
(April 04, 2023) Kuya Silver Corporation (CSE: KUYA) (OTCQB: KUYAF) (FSE: 6MR1) (the "Company" or "Kuya Silver") is very pleased to announce assay results from the newly discovered, silver-bearing Angus Vein (Table 1; Figure 1). The silver results in the Angus Vein were intersected in the second of two drill holes in the Campbell-Crawford area (Figure 2), which was historically explored but never mined. The initial drilling intersect was reported in Kuya Silver's news release dated March 15, 2023.
Highlights of New Discovery:
Kuya Silver expedited the assaying of 3.80 m of visually identified silver mineralization in hole 23-SK-08:
Best assay intercept to date of 74,418 g/t (2,393 oz/t) silver over 0.30 m (237.50 m to 237.80)
Composite interval of 16,838 g/t silver, 0.08% cobalt over 3.04 m (235.20 m to 238.24)
Logging indicates additional silver/cobalt mineralization in this drill hole
Seven drill holes (2,334 m; Table 2) at Campbell-Crawford area intersected up to six silver/cobalt mineralized veins per drill hole (visual and/or pXRF analysis)
The Company intersected multiple silver/cobalt mineralized veins per drill hole, at a range of depths and with different orientations, suggesting that this is more likely a mineralized vein cluster and not an isolated vein
Campbell-Crawford discovery is located approximately 1 km north of the North Drummond area and 750 m southeast of a 1,300 oz/t silver intercept from 1981 underground drilling by Silver Century Explorations Ltd. (Benner 1982).
From
To
Length
Ag
Co
m
m
m
g/t
oz/t
wt %
wt %

235.20

235.70

0.50

1,333

42.9

0.13

0.00

235.70

236.00

0.30

663

21.3

0.07

0.08

236.00

236.30

0.30

167

5.4

0.02

0.07

236.30

237.00

0.70

102

3.3

0.01

0.05

237.00

237.50

0.50

10,435

335.5

1.04

0.00

237.50

237.80

0.30

74,418

2,392.9

7.44

0.13

237.80

238.24

0.44

51,496

1,655.8

5.15

0.31

238.24

238.54

0.30

83

2.67

0.01

0.05

238.54

239.00

0.46

3

0.08

0.00

0.00
From

To

Total Length

Ag

Co

m

m

m

g/t

oz/t

wt%

wt%

235.2

238.24

3.04

16,838

541.4

1.68

0.08
Table 1: Assay values for newly discovered Angus Vein. Silver values were assayed at SGS Labs by Screened Metallics and all other values were measured at AGAT Labs. Vein intersections do not represent true width of mineralization.



Figure 1: Selected silver assay results from the main part of the Angus Vein. Vein intersections do not represent true width of mineralization.
To view an enhanced version of this graphic, please visit:
https://images.newsfilecorp.com/files/5945/161218_ce6a2309948759b5_001full.jpg.
Angus Vein Discovery
The Angus Vein is one of two mineralized veins known in the historic Campbell-Crawford adit, and the vein may be exposed on surface as the Campbell-Crawford West vein. The vein trends 060°-240° and dips SE at 80° (060°/80°). The vein was intersected in hole 23-SK-07 at 108.5 m, confirming the southerly dip. In all three of these cases, the vein occurs within the sheet-like Nipissing Diabase sill (Figure 2) and mineralization is relatively low-grade.
Immediately below the lower diabase contact, the vein orientation appears to change sharply. The 060°-240° trend seems to remain constant but the dip direction reverses to NW dipping at ~75°. Hole 23-SK-08, which intersected the bonanza-grade mineralization, pierced the vein in this zone. However, this change in vein orientation is subparallel to subsequent drillholes 23-SK-09, -10, -11 and -12, which were drilled to the north. Drill hole 23-SK-13 was drilled southerly and a 1 m zone of veined to fracture-filling native silver was intersected, 11 m laterally and 18 m deeper than the initial silver intersection in hole 23-SK-08 (Figure 2).
Three major points can be inferred from the drilling and this reversal of dip direction of the vein:
The flexing of the vein occurs along the lower diabase contact. The intersection of the vein with the diabase contact trends 060°-240° and is calculated to plunge shallowly (~10° SW)
Silver content increases significantly in this flexed zone
Silver content in this zone seems to persist for at least 30 m below the diabase contact
The Angus Vein is named in honour of Angus D. Campbell (1884-1976), a member of the 1909 Cobalt Silver Kings professional hockey team. He led the formation of the Northern Ontario Hockey Association, which was later affiliated with the Ontario Hockey Association, and he was inducted into the Hockey Hall of Fame in the builder category in 1964. Angus worked as a mining engineer and served a term as the President of the Professional Engineers of Ontario.
David Lewis, Exploration Director with Kuya Silver, commented: "With a grassroots drill intersection of this magnitude, we at Kuya Silver have firmly established ourselves in the legacy of the Cobalt mining camp and I'd like to personally credit and thank our exploration team. The Campbell-Crawford area was neglected as it did not match with the prevailing exploration model, but it stood out as a drill target in our updated understanding of the camp. The assay results of this vein match well with the grade of silver produced in the heyday of the Cobalt camp from 1908-1918, with ore grades between 1,000 - 4,000 oz/t, when an average of 27 million ounces of silver was mined per year."
Ben Mark, Graduate Student in Geology, remarked: "Of the publicly available data we have compiled, this is by far the best silver assay value encountered from the Cobalt mining camp since at least 1964. Prior to the Angus Vein discovery intersection, the best recent grassroots discovery was by Silver Century Explorations in 1986 at Silver Heart, discovered south of Kerr Lake, which drilled 229 oz/t silver over 0.20 m (Armstrong 1986). The best recent brownfields intersection was drilled underground in 1981, also by Silver Century Explorations, at the Rix Athabasca / King Edward mines (Benner 1982), which drilled 959 oz/t over 0.48 m, including 1,300 oz/t silver over 0.12 m."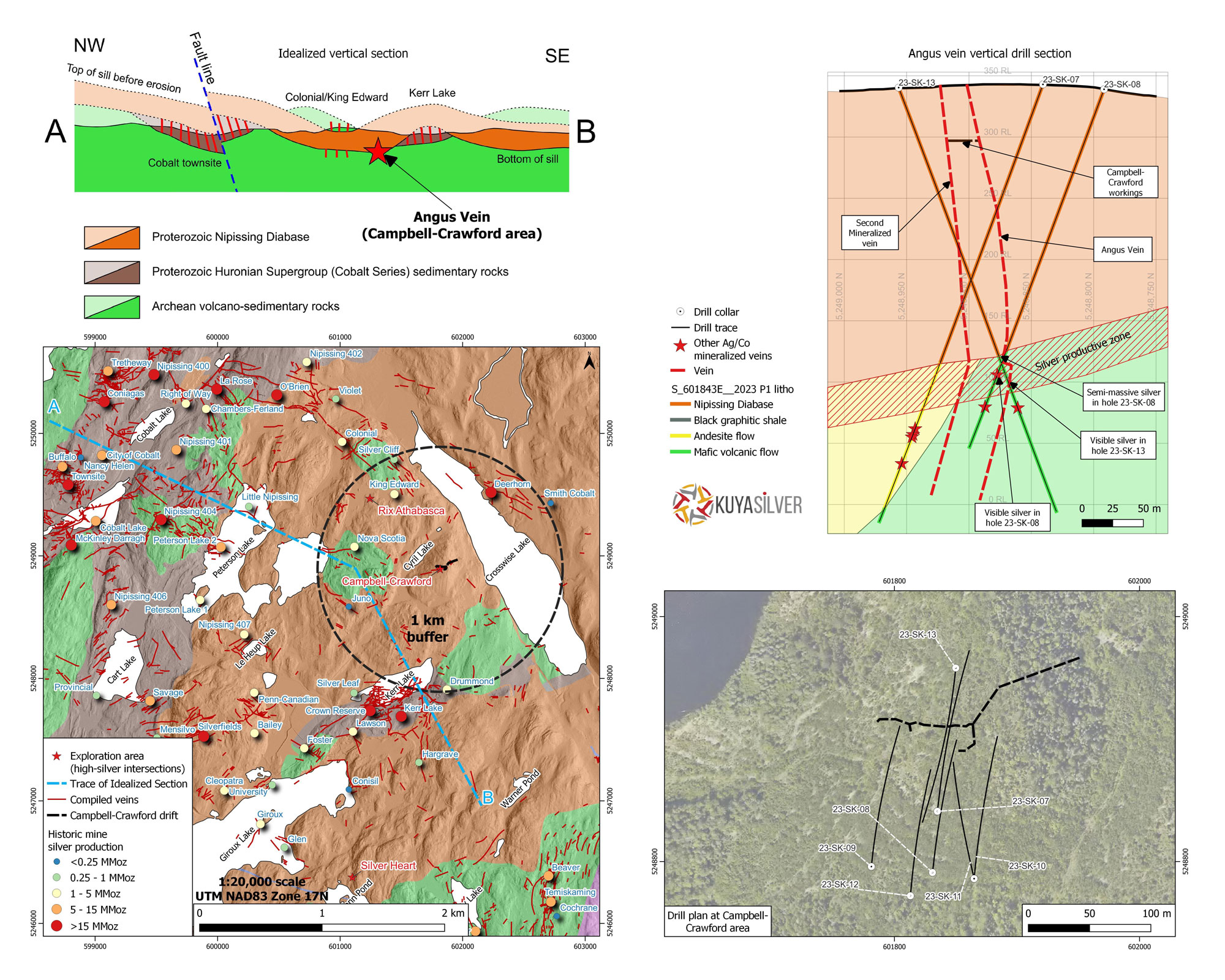 Figure 2: Maps and vertical section of the Campbell-Crawford area, Silver Kings Project. Although cobalt-bearing veins were known on surface and in shallow exploratory workings, the lower diabase contact, where veins generally cluster, had never been tested. Silver in the Angus Vein was intersected in hole 23-SK-08, immediately below the diabase, in a flexure in the vein.
To view an enhanced version of this graphic, please visit:
https://images.newsfilecorp.com/files/5945/161218_ce6a2309948759b5_002full.jpg.
Note: Portable X-ray fluorescence (pXRF) is a rapid and non-destructive analytical method used to precisely measure the point source (or spot) elemental composition of materials. Portable XRF measurements were captured using a handheld Thermo-Scientific Niton XL3t instrument, which was professionally calibrated in 2021 by Elemental Controls in Mississauga, Ontario.
| | | | | | | |
| --- | --- | --- | --- | --- | --- | --- |
| Hole ID | Easting | Northing | mASL | Azimuth | Dip | Depth |
| 23-SK-07 | 601835 | 5248841 | 343 | 5 | -70 | 381 |
| 23-SK-08 | 601831 | 5248791 | 339 | 5 | -70 | 312 |
| 23-SK-09 | 601781 | 5248796 | 341 | 5 | -70 | 342 |
| 23-SK-10 | 601865 | 5248786 | 334 | 5 | -70 | 324 |
| 23-SK-11 | 601865 | 5248786 | 334 | 347 | -72 | 300 |
| 23-SK-12 | 601813 | 5248772 | 337 | 5 | -70 | 306 |
| 23-SK-13 | 601850 | 5248958 | 340 | 185 | -69 | 369 |
Table 2: Collar coordinates and drill orientations from the Campbell-Crawford area drilling. All units are in meters and coordinates are presented in UTM NAD83 Zone 17N.
References
Armstrong, J.E. 1986. Exploration Program on the Silver Heart Property Group, Cobalt Ontario Area; Kirkland Lake Resident Geologist's Office, Coleman Township, assessment file 31M05NE0149.
Benner, R.I. 1982. Report on the Silver Century Explorations Ltd. Group of Properties, Cobalt Ontario; Kirkland Lake Resident Geologist's Office, Coleman Township, assessment file 31M05NE0412.
Sergiades, A.O. 1968. Silver Cobalt Calcite Vein Deposits of Ontario; Ontario Department of Mines, Mineral Resources Circular No. 10, 498p.
Quality Assurance and Quality Control
The drill core samples were logged and sampled by the Qualified Person with limestone blank material and standard reference material added in sample sequence following visual identification of silver mineralization. The samples were cut perpendicular to veining by core saw and were secured in labelled vinyl sample bags. Samples were delivered by the Qualified Person to AGAT Laboratories in Mississauga, Ontario, where they were crushed and pulverized, with silica wash material used to clean the equipment between each pulverization.
At AGAT Labs, samples were weighted and measured for specific gravity by pycnometer. The pulverized samples were digested by 4-acid and analyzed by ICP-OES (maximum detection limit of 500 g/t silver). Samples were analyzed for gold using Fire Assay with Gravimetric finish (30 g).
At SGS Labs, samples were processed by 500 g Screened Metallics. This method is suitable for coarse native metals (e.g. gold, silver, copper, palladium and platinum) with no upper detection limit. Samples were screened to 106 microns and fire assayed.
National Instrument 43-101 Disclosure
The technical content of this news release has been reviewed and approved by Mr. David Lewis, P.Geo., Exploration Director of Kuya Silver and a Qualified Person as defined by National Instrument 43-101.
Financing
The Company also announces it has closed a non-brokered private placement by issuing 1,593,184 units (each a "Unit") at CAD$0.27 per Unit for gross proceeds of CAD$430,160 (the "Offering"). Each Unit entitles the holder to receive one (1) common share in the capital of the Company (each a "Common Share") and one-half of one (1/2) transferable Common Share purchase warrant (each whole warrant a "Warrant"). Each Warrant entitles the holder to acquire one (1) Common Share at CAD$0.50 until April 3, 2025. In connection with the Offering, the Company paid finder's fees of CAD$12,000, equal to 6% of the total proceeds raised by eligible finders, and issued 44,444 finder warrants (each, a "Finder Warrant"), equal to 6% of the number of Units sold by eligible finders. The Finder Warrants are exercisable at CAD$0.50 until April 3, 2025. The Company intends to use the net proceeds from the Offering for general working capital purposes. All securities issued under the Offering, including securities issuable on exercise thereof, are subject to a hold period expiring August 4, 2023, in accordance with the rules and policies of the Canadian Securities Exchange and applicable Canadian securities laws, except for those issued to investors in foreign jurisdictions. The Company anticipates closing a second and final tranche of the Offering, within 5 business days.
About Kuya Silver Corporation
Kuya Silver is a Canadian‐based mineral exploration and development company with a focus on acquiring, exploring, and advancing precious metals assets in Peru and Canada.
For more information, please contact:
David Stein, President and Chief Executive Officer
Telephone: (604) 398‐4493
This email address is being protected from spambots. You need JavaScript enabled to view it.
www.kuyasilver.com
Reader Advisory
This news release contains statements that constitute "forward-looking information," including statements regarding the plans, intentions, beliefs, and current expectations of the Company, its directors, or its officers with respect to the future business activities of the Company. The words "may," "would," "could," "will," "intend," "plan," "anticipate," "believe," "estimate," "expect," "must," "next," "propose," "new," "potential," "prospective," "target," "future," "verge," "favourable," "implications," and "ongoing," and similar expressions, as they relate to the Company or its management, are intended to identify such forward-looking information. Without limiting the generality of the foregoing statements, any discussion of the potential of exploration targets, assay results and the proposed use of the proceeds of the Offering, is forward-looking information. Investors are cautioned that statements including forward-looking information are not guarantees of future business activities and involve risks and uncertainties, and that the Company's future business activities may differ materially from those described in the forward-looking information as a result of various factors, including but not limited to fluctuations in market prices, successes of the operations of the Company, continued availability of capital and financing, and general economic, market, and business conditions. There can be no assurances that such forward-looking information will prove accurate, and therefore, readers are advised to rely on their own evaluation of the risks and uncertainties. The Company does not assume any obligation to update any forward-looking information except as required under the applicable securities laws.
Neither the Canadian Securities Exchange nor the Investment Industry Regulatory Organization of Canada accepts responsibility for the adequacy or accuracy of this release.
NOT FOR DISTRIBUTION TO U.S. NEWSWIRE SERVICES OR FOR DISSEMINATION IN THE UNITED STATES. ANY FAILURE TO COMPLY WITH THIS RESTRICTION MAY CONSTITUTE A VIOLATION OF U.S. SECURITIES LAWS.
To view the source version of this press release, please visit https://www.newsfilecorp.com/release/161218