The Silver Kings Project is located in Northern Ontario's most prolific silver mining camp, situated near the historic mining town of Cobalt, Ontario. The Project encompasses 16,000-hectare and it host to approximately 1/6 of total historic silver production from the Cobalt and Silver Centre mining camps was produced from this consolidated property (96 / 550MM oz)
The Kerr Project at Silver Kings is located within a 900-hectare land package that includes several historic silver mines: Crown Reserve, Kerr Lake, Lawson, Drummond, Conisil, Hargrave, Silver Leaf and Bailey. Between 1905-1970, these mines produced over 50 million ounces of silver and 900,000 pounds of cobalt. Although incredibly prolific, the deepest mine shaft of the package was less than 200 metres, providing an exceptional opportunity for deeper exploration. Also included in the Kerr Assets is the nearby Silverfields property, which was previously mined by Teck until 1983 to a depth of 300 metres and produced over 17 million ounces of silver, further demonstrating the depth potential to some mineralized systems.
Bedrock geology of the Canadian Cobalt Camp properties highlighting the Kerr Property at Silver Kings (red box), and the Silver Kings JV (orange shading) comprising the full land package.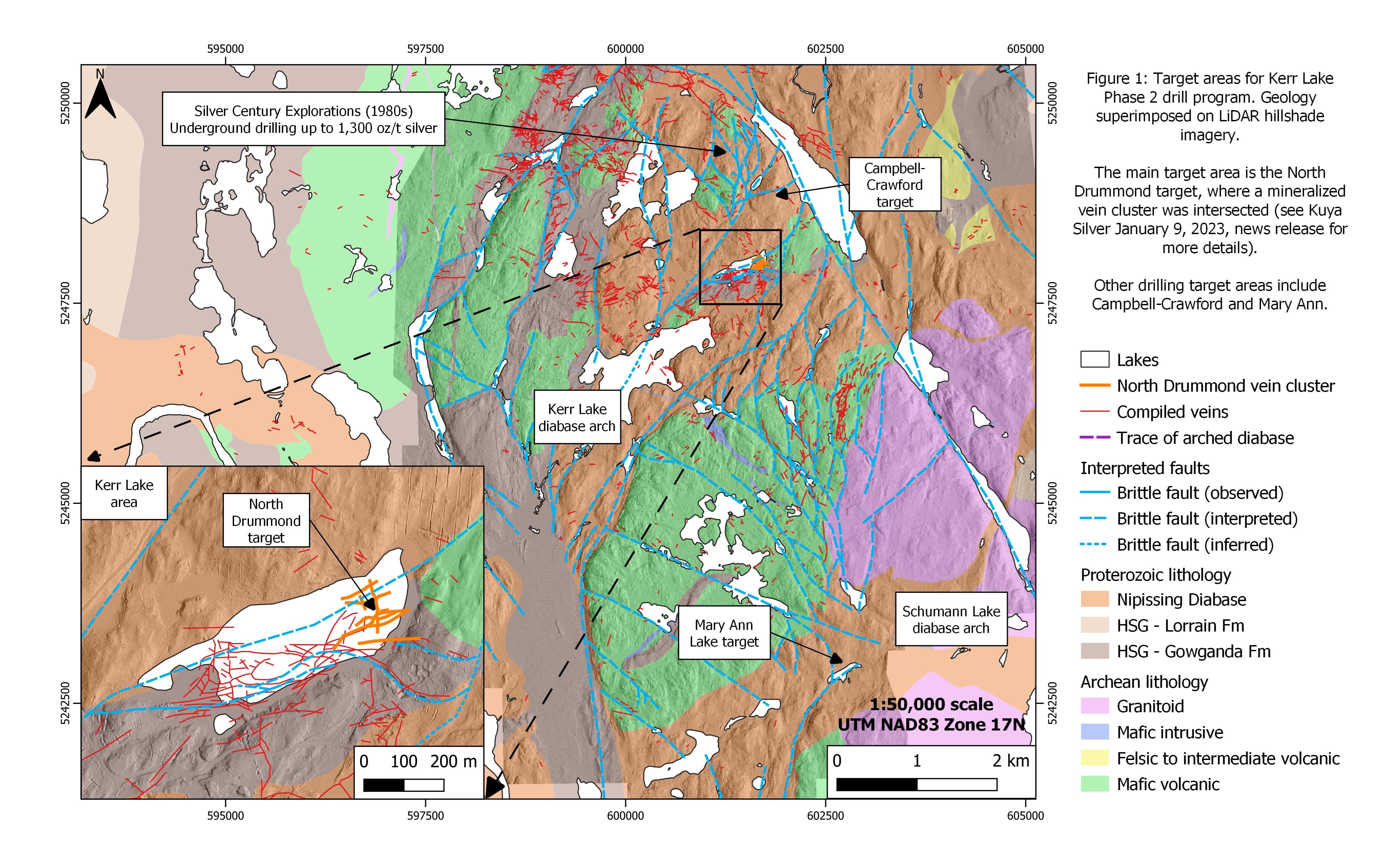 Target areas for Kerr Lake Phase 2 drill program. Geology superimposed on LiDAR hillshade imagery. The main target area is the North Drummond target, where a mineralized vein cluster was intersected
2023 Program:
In February 2023, Kuya commenced a 3,500m phase two drill program focused around the North Drummond target area at Kerr Lake. The program is primarily focused on further delineation of mineralized vein clusters that were intersected in 2021 drilling. Two other target areas will be tested in this program, including the Campbell-Crawford area, where silver-cobalt mineralization is known on surface and in a single adit, but with significant potential at depth below the workings. For example, underground drilling by Silver Century Explorations in the early 1980s intersected 1,300 oz/t (ounces/ton) (40,000 g/t) silver at depth and along trend from this area.